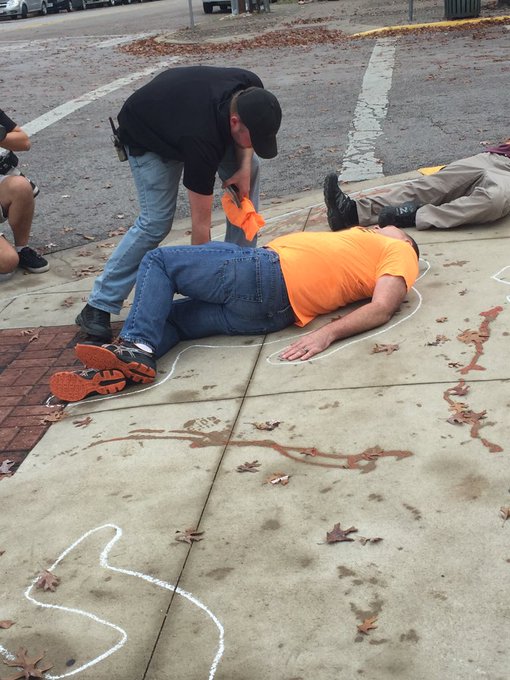 AUSTIN — A small group of gun-toting activists marched and staged a mock mass shooting near the University of Texas campus Saturday, throwing a spotlight on the controversial debate over gun-free zones.
The demonstration by about dozen protesters, many carrying rifles, opened with a march down a street next to the university. One demonstrator carried a sign calling for an end to "killing zones." The protest ended with a fake shootout that used cardboard guns and left "victims" splattered with ketchup and splayed on sidewalks.
The event, sponsored by Come and Take it Texas and DontComply.com, was aimed at bringing "awareness to Second Amendment rights," said Jason Orsek, vice president of the groups.
The highly publicized demonstration unfolded as the recent terrorist attacks in Paris and San Bernardino, Calif., have renewed calls for more gun restrictions.Texas' public universities, meanwhile, are preparing to comply with a new state law that allows people age 21 and older to carry licensed guns on campuses. The so-called "campus carry" law has sparked protests from gun-control groups on campus, such as Gun Free UT.
Several of the "dead" after Saturday's mock mass shooting wore bright orange fake Gun Free UT t-shirts.
Murdoch Pizgatti, the president of Come and Take it Texas, called the fake shooting a "theatrical performance" to demonstrate the difference between a "gun-free zone where a criminal that wants to do harm confronts an unarmed population, as opposed to one where the criminal is stopped by handgun owners."
He argued that many of the nation's massacres, including one of the bloodiest at Virginia Tech in 2007 that left 32 dead, occurred in places where guns were not allowed.
On Saturday, students and gun-control advocates interrupted Pizgatti's gathering and chanted: "Mock shooting, mock victims" and "Our history is not a joke." They also deployed flatulent noise makers as part of "mass farting" counter-protest.
Charlie Henry, a sophomore, called the fake shooting "inflammatory" and "really insensitive," given the school's history.
Nearly 50 years ago, a heavily armed man climbed the campus' clock tower and went on a shooting spree that killed 16 and wounded 32. "The fact that these groups to want to do a fake shooting with cardboard guns and fake blood is completely ridiculous," Henry said.
"We sent a message," said Andrew Dobbs, one of the leaders of the counter-protests. "There's a lot more of us, we're funnier, and a lot smarter. These are the things victory is made of."
The march and mock shooting originally were intended to be held on campus, but the school objected and organizers agreed to move their efforts just outside the campus boundary.
Pizgatti said counter-protesters posed no problem. "It's freedom of speech. I encourage people to speak their minds," he said. "We want the least amount of disturbance."
USA TODAY